Winter Intermediate Dressage (Area 18 Qualifier)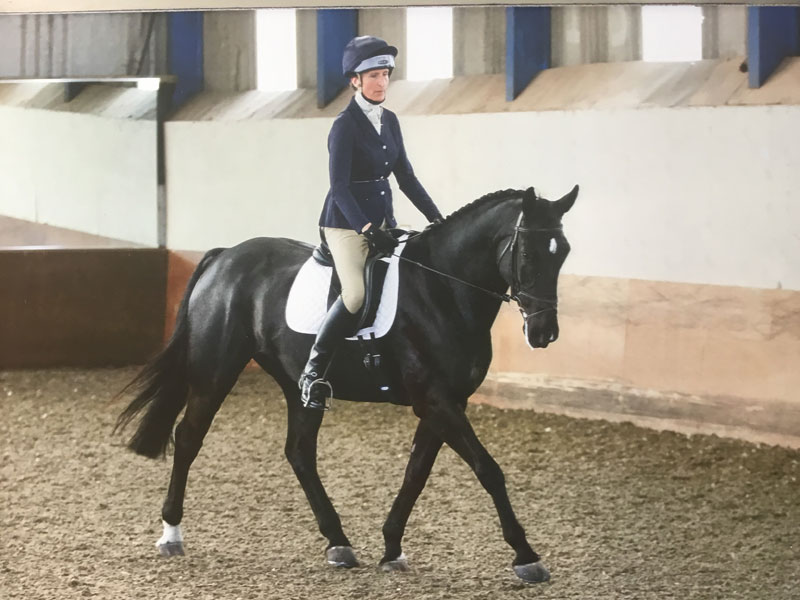 The Winter Intermediate Area Dressage Qualifier took place at Abbey Dressage on Sunday 25 March 2018, having been postponed from the 4th March at Summerhouse because of the snow.
This time the weather was true spring-like, mild and sunny. ERC riding club sent two teams of three riders to ride P14, N24 and N30. Unfortunately we lost our two Elementary riders because of the change in date, which meant we had no drop score, all three scores had to count!
Evenlode Yellow were Claire Oldfield (see 'Member in the Spotlight' below) on Kingwood Diamonds ("Woody"), Fe Moore on Azure Aware ("Alfie")and Cathy Ruane on Angel.
Evenlode Green were Nicole White on Rannoch Moor, Steph Cameron on Woody and Karen Rawlins on Aragorn.
Well done to Fe who had to leave her lovely horse Daisy at home and swap to Alfie the day before the competition, hence no time for the duo to practise.
Respectable scores all round for our riders who posted an average score of 65% each, but huge congratulations must go to Claire Oldfield and her horse Woody who scored 71.73%  in test P14 and came third overall in her arena.
We all had a great day out, despite a few hiccups leading up to the competition. ERC have not qualified this time for the Championships,  it looking forward to the Summer Qualifiers already!
Written by Team Manager Karen Rawlins
Member in the Spotlight:
Claire Oldfield, Kingwood Diamonds
Having been a member of ERC for just over a year, I was keen to see if this year, I could join in with more club activities and meet new riding friends. I had a couple of successful days at our club dressage shows over the winter with my 10 year old ISH Kingwood Diamonds (Woody) and this gave me the confidence to put my name forward for consideration for a dressage team at the Area Qualifiers in March, riding a Preliminary test.
The team organiser, Karen Rawlins, could not have been more encouraging; training was offered with Caroline Princz at Lyneham, which gave me the opportunity not only to improve my test riding but also to meet fellow team riders. After a false start (the Qualifiers were initially postponed due to snow!), we finally made it over to Abbey Dressage near Tewkesbury on Sunday 25 March. I hadn't any previous British Dressage experience and was a bit nervous to see a few 'dressage divas' in the warm up! But overall, most of the other competitors were reassuringly similar in level to me and the organisers from Cheltenham & District riding club were very friendly and helpful. Woody is a very laid back character and I was pleased that the judge liked his test, giving us a score of 71.73% which gave us 3rd prize – and a very nice rosette!
Once I'd parked Woody back at my trailer with a well-earned haynet, I was really pleased to meet up with fellow ERC member Nicole White (and her mum!) and to call her Prelim test, which she rode beautifully on her lovely horse Rannoch Moor. Sadly, we couldn't stay on to watch our Novice test riders, but a successful day was enjoyed by all.
So a big thank you to Karen for all her fab organising and I look forward to joining in with future events at the club!
Written by Claire Oldfield