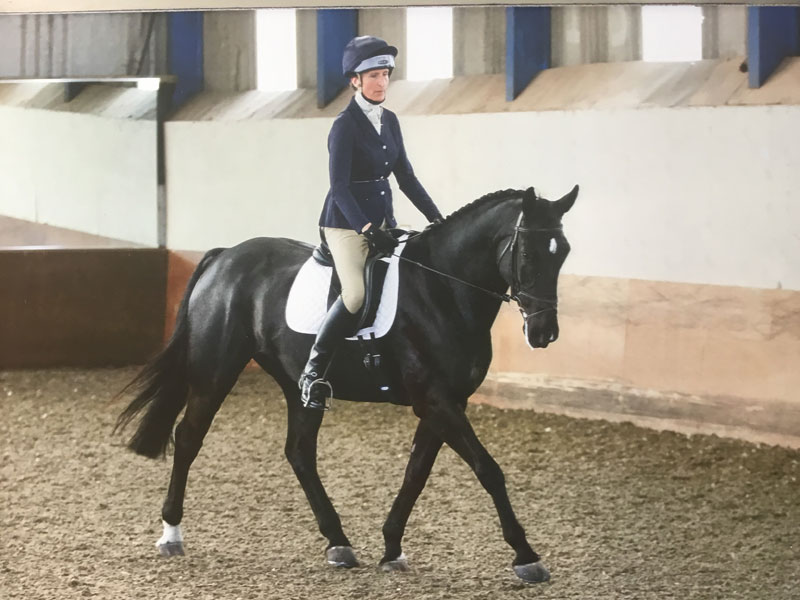 Melanie Arnold:  Arena Eventing Championships March 2020
Our 100 team represented ERC at the National Arena Eventing Championships held at Aston Le Walls in March. Congratulations to Fe Moore, Evelyn Robbins, Bizzy Loffet and Imogen Humphrey who came 4th. Our individual rider, Louise Hinckley, was 8th so a super day out and a frilly for everyone !
Katie Jones:  Team Manager for Show Jumping
The Area Winter SJ Qualifier took place in February at Lincomb. Due to adverse weather, entries were depleted on the day but we still managed to field three teams; one each at 80, 90 an 100.  Congratulations to Dom Bevis, winner of the 90 class and a Championship invite also to Bizzy in the 100.  Such a shame that Covid means that the Championships have been cancelled.
Karen Rawlins: Dressage Team Manager
Back in October 2019, we sent four senior teams to this wonderful annual qualifier at Hartpury with three of those coming in the top ten of thirty teams; 4th, 8th and 9th. Lucy Turner and Melanie Arnold qualified as individuals, by coming first in their respective classes but, once again, the Champs were cancelled. Great results too for Sharon Little, 3rd,  and 4th for Cathy Ruane.
Virtual Dressage: This Summer 2020 event was organised by a third party for BRC and sponsored by NAF. Claire Oldfield and Biz Loffet were placed but there were rather too many issues with receiving test sheets and prizes which was rather frustrating.
Dressage to Music Qualifier: Four ERC members went to the summer qualifier. Claire Oldfield, Katie Jones, Sue Odom and Biz Loffet, some brilliant scores and all were placed. Biz came first in her class to qualify for the Champs, where she came fifth overall, ERC's highest ever DTM result so a huge congratulations to her and Darren
Winter Intermediate Dressage: Due to Covid, the qualifiers could not be held and direct entry to the Championships was via a ballot.  Our Seniors were unsuccessful from the pot luck draw but two of our juniors, Issy Lovat and Evelyn Robbins, have been invited to the Champs, which will be Online, most likely in April 2021.
BRC Online Christmas Cracker Dressage: Melanie Arnold.  Following the Summer issues, BRC ran this event themselves with sponsorship from NAF, A brilliant effort, with Christmas jumpers galore, a wide choice of tests, great prizes and a super 'livestream' over 3 days just before Christmas.  ERC's team of Bizzy Loffet, Katie Jones, Claire Oldfield and Louise Hinckley WON, from 37 National teams with all riders placed in the top 6 of their sections and Katie taking a win.  Individually, Emma Hunter was 4th in her class and Melanie Arnold 6th so an absolutely brilliant result all round !
Member in the Spotlight:
Claire Oldfield, Kingwood Diamonds
Having been a member of ERC for just over a year, I was keen to see if this year, I could join in with more club activities and meet new riding friends. I had a couple of successful days at our club dressage shows over the winter with my 10 year old ISH Kingwood Diamonds (Woody) and this gave me the confidence to put my name forward for consideration for a dressage team at the Area Qualifiers in March, riding a Preliminary test.
The team organiser, Karen Rawlins, could not have been more encouraging; training was offered with Caroline Princz at Lyneham, which gave me the opportunity not only to improve my test riding but also to meet fellow team riders. After a false start (the Qualifiers were initially postponed due to snow!), we finally made it over to Abbey Dressage near Tewkesbury on Sunday 25 March. I hadn't any previous British Dressage experience and was a bit nervous to see a few 'dressage divas' in the warm up! But overall, most of the other competitors were reassuringly similar in level to me and the organisers from Cheltenham & District riding club were very friendly and helpful. Woody is a very laid back character and I was pleased that the judge liked his test, giving us a score of 71.73% which gave us 3rd prize – and a very nice rosette!
Once I'd parked Woody back at my trailer with a well-earned haynet, I was really pleased to meet up with fellow ERC member Nicole White (and her mum!) and to call her Prelim test, which she rode beautifully on her lovely horse Rannoch Moor. Sadly, we couldn't stay on to watch our Novice test riders, but a successful day was enjoyed by all.
So a big thank you to Karen for all her fab organising and I look forward to joining in with future events at the club!
Written by Claire Oldfield